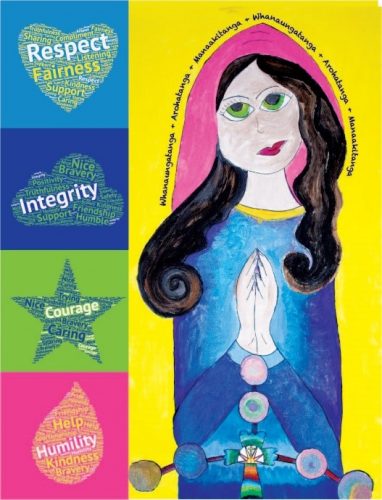 Our students identified what each of these values looked like, felt like and sounded like to bring life to each value as you see here in these visuals.
Each of these values has its foundation in scripture:
Respect: Do to others as you would have them do to you Luke 6:31
Integrity: He who walks in integrity walks securely Proverbs 10:9
Courage: Have I not commanded you? Be strong and courageous Do not be terrified; do not be discouraged, for the LORD your God will be with you wherever you go Joshua 1:9
Humility: Do nothing from selfishness or conceit, but in humility count others better than yourselves 2 Phillippians 2:3.
Marist also weaves the Maori Values of Whanaungatanga (belonging for all), Arohatanga (empathy, tolerance, understanding of difference, forgiveness compassion) and Manaakitanga (hospitality and warmth, sharing and helping, celebrating our uniqueness, bringing out the best in each other so all can reach their potential) into all interactions.