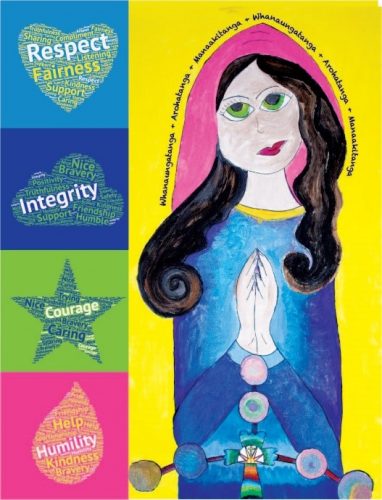 Our Charism
As Marists, we think, judge, feel and act in the way of Mary.
Our Vision
Quality learning opportunities, with Jesus Christ as our guide
Our Values
Respect: Do to others as you would have them do to you Luke 6:31
Integrity: He who walks in integrity walks securely Proverbs 10:9
Courage: Have I not commanded you? Be strong and courageous Do not be terrified; do not be discouraged, for the LORD your God will be with you wherever you go Joshua 1:9
Humility: Do nothing from selfishness or conceit, but in humility count others better than yourselves 2 Phillippians 2:3.
Marist also weaves the Maori Values of Whanaungatanga (belonging for all), Arohatanga (empathy, tolerance, understanding of difference, forgiveness compassion) and Manaakitanga (hospitality and warmth, sharing and helping, celebrating our uniqueness, bringing out the best in each other so all can reach their potential) into all interactions.
Our students have identified what each of our values look like, feel like and sound like to bring life to each value as you see in the above visuals.
"""…Each of these values has its foundation in scripture
Catholic Character Review 2018
Our latest Catholic Special Character External Review was undertaken in late August of 2018 with the report released in September. We are so proud of the review – see below for some snippets, and beneath these, the full report is available.
…the School has a very strong family feel where whānau are important.' 
'She (The Principal) is supported in her role by a strong Senior Leadership Team and when asked the question "What are the strengths of this School" one parent answered "The Principal, the Deputy Principal, and the staff"…  Everyone spoken to during the two days of the visit spoke of her leadership, her enthusiasm and her vitality in and around the School, as well as her knowledge and love of the students and their families.'
'The School is well resourced for the teaching of RE and the teaching and learning reflect best practice in current pedagogy.'
'Students have access to resources and there is a high level of engagement across the School.  The Reviewers saw a variety of authentic learning tasks being used in lessons and in the students' exercise books.'
'All classrooms and Hubs were vibrant and effective learning environments and teachers have worked hard to make these exciting, alive and a showcase for the work the children have completed.  It was very obvious to the Reviewers that they were not only sound working environments, but that they were spaces that reflected the School's Marist and Catholic Special Character.'
'Marist Catholic School is ably led by the Principal and BOT Chairperson who work tirelessly along with their staff and Board members to provide an excellent Catholic education for their students.  They all see their work as a Ministry within the Church.  Everything that occurs in the school is under the guidance of Mary whose presence is everywhere – in statues, art works and in the students, staff, and Board themselves.'
Philip Mahoney
Manager
Catholic Schools Office, Auckland
Herne Bay Confirmed Report September 2018
Marist Herne Bay 2014 Confirmed
Mass Times
Sacred Heart Parish
16 Vermont St Ponsonby
Weekly Mass Timetable:
Saturday: Vigil Mass 5pm
Sunday: 10.30-am (including children's liturgy)
Monday-Thursday: 7.30am
Friday: 7.30am and 12.00 noon
Saturday and public holidays: 8.00am
Confessions:
Friday 11.30am – 11.55am
Saturday 4.15pm – 4.45pm
Our Lady of Perpetual Help Parish
82 Kelmarna Ave, Herne Bay
Weekly Mass Timetable:
Sunday: 8.30am
Monday-Saturday 7.00am